Danfoss Maneurop RT Series Differential Pressure Switches
Rp0.00
Danfoss RT switches are used in general industrial and marine sectors.
The RT single pressure switches series consist of a variety of ordinary controls including neutral zone pressure switches, safety pressure switches for steam boiler plant, and gold plated fail-safe controls for applications in which safety or economical consequences are critical factors.
RT switches have been in service for more than 60 years.
Properties
Temperature Range: -60 to 300ºC.
Replaceable contact system.
Also available with gold plated contact systems.
Adjustable differential.
Enclosure IP66.
Available with external max. reset function (IP54).
Available with dead zone.
Available with all relevant marine approvals.
Contact function: SPDT.
Contact material: Silver cadmium oxide (other contact materials available as accessories).
Loads: AC-1 (ohmic) 10A, 400V | AC-3 (motor) 4A, 400V | AC-15 (inductive) 3A, 400V.
Ambient temperature: -50 to 70ºC.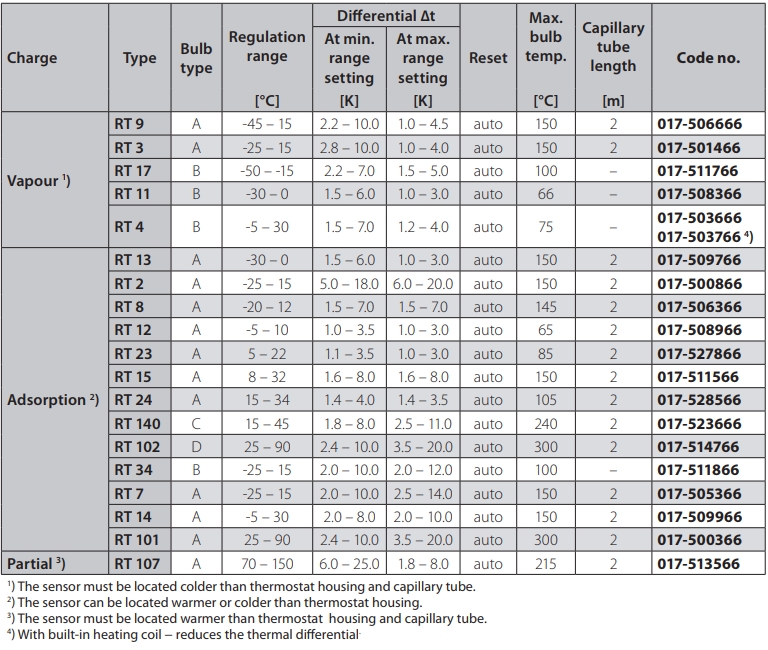 Rp

0.00

Wall & Duct Mounting Humidity Sensors Humidity or combined humidity and temperature options NTC temperature option 4-20mA or 10mV/unit output…

Rp

0.00

Pressure controls for refrigeration compressors KP pressure controls are optimized for food retail refrigeration applications providing the excellent protection against…

Rp

0.00

Great reliability and long service life The KP pressure switches from Danfoss are optimized for light and heavy commercial refrigeration…